Education Scotland publishes school inspection findings to promote improvement at a local and national level
25 February 2020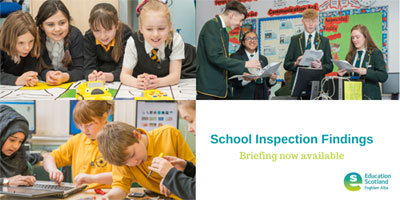 Education Scotland has today published the first in a new series of briefings, as part of a new approach to the HM Chief Inspector Reporting. The first briefing focuses on 'School inspection findings' and provides the independent professional view of HM Inspectors, drawing on the findings from school inspections during academic year 2018–19.
In line with this new approach, the briefing is accompanied by a suite of materials developed especially for educators that can be used for professional learning and to reflect on their own practice. This includes a blog from Her Majesty's Chief Inspector of Education, Gayle Gorman, in addition to an interactive presentation designed for educators at all levels in their own establishments, and which can be used for discussion, reflection and to support improvement.
The inspection evidence identifies what is working successfully in Scottish education as well as priorities for improvement.
This evidence shows that schools are continuing to build on the key strengths in Scottish education:
School leadership is ensuring the need for change is well understood by the school community, with a strong buy-in to raising attainment and addressing the poverty-related attainment gap.
There is evidence that collaboration and participation in career-long professional learning is resulting in positive outcomes in most schools.
There is also increasing confidence in using a range of data more effectively.
Schools continue to develop opportunities for learners to express their views and influence decision making within the school.
As well as these strengths, evidence from inspection has also identified opportunities to improve outcomes for children and young people and help achieve excellence and equity. These include:
achieving consistently high-quality learning and teaching;
continuing to improve the reliability and validity of teachers' judgements;
improving the monitoring and tracking of children's and young people's progress, skills and attainment over time; and
further developing approaches to supporting children and young people to learn about all aspects of equality and diversity.
Gayle Gorman, Her Majesty's Chief Inspector of Education, said:
"In Scotland, our inspection activity is a crucial tool which supports improvement, as well as providing assurance and public accountability. I hope that the School Inspection Findings briefing, along with the briefings which will follow in coming months, will help educators across schools to be aware of the many strengths we have identified but also what needs to improve nationally as a means of opening up discussions supporting continuous improvement within schools and classrooms."
Janie McManus, Strategic Director, Scrutiny, with Education Scotland, said:
"We are committed to making the best use of the rich evidence that HM Inspectors gather as they carry out scrutiny activity across Scotland. Over the coming months we will be providing a number of these briefings, so I would encourage you to check the HM Chief Inspector's Report section of our website regularly, to engage with these tools for improvement and together we will work towards excellence and equity in an increasingly empowered system."
To support collaborative approaches to improvement the briefing includes examples of highly effective practice, identified during the inspection process, which have then been developed into sketchnotes. These are accompanied by a blog from the establishment describing their practice.