Education Scotland announce theme for SLF 2022
11 May 2022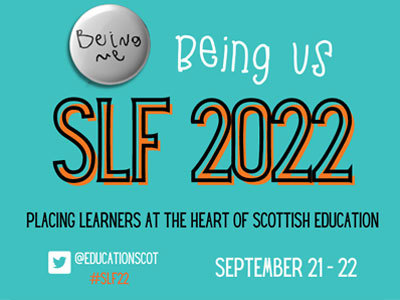 Education Scotland have announced the theme for this year's Scottish Learning Festival. 'Being Me, Being Us: Placing learners at the heart of Scottish Education'.
Building on the success of last year's first ever SLF Online Education Scotland will once again be offering a virtual learning festival and in addition there will be several small 'satellite events' across Scotland over two days. These will be physical events and they will be streamed into the main SLF virtual portal so registered delegates can join in from anywhere.
SLF will continue to be centred around supporting extensive professional learning for practitioners across all sectors in the Scottish education system and plans are underway to run key notes and around 70 seminars over two days as part of the conference programme.
Speaking about the theme for this year's SLF, Chief Executive and HM Chief Inspector of Education Gayle Gorman said: "Learning from the past two years of the pandemic has strengthened our view that placing the humanity of education at the centre is a crucial message for Scottish education at all sectors and stages.
"This year's SLF theme puts learners at the heart of Scottish Education and reflects The United Nation's Convention on the Rights of a Child (UNCRC), the national model for professional learning and also the themes of Ken Muir's recent reform report 'Placing Learners at the Centre' and the OECD 2030 report.
"We had some really positive feedback from last year's SLF Online and I'm excited to see this model grow and develop with several small satellite events. I hope I get to see some familiar faces and new ones at this year's event."
The 'Being Me' element of the theme links to the Education Scotland and Scottish Government publication, Realising the Ambition: Being Me. This champions learner-centred pedagogy and the importance of meeting learners' developmental needs over time; highlighting that learners develop their individual skills, knowledge and attributes at different rates according to who they are.
As the Scottish Learning Festival continues to evolve, this year Education Scotland has made the decision to remove the exhibition element of the event and instead fully focus efforts on developing a hybrid event that puts professional learning at the centre.
More information can be found by visiting www.slf2022.com