Education Scotland director elected president of international inspection council
18 November 2022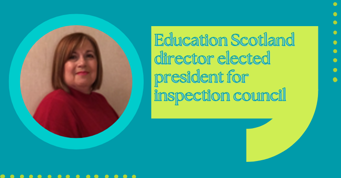 Education Scotland's Strategic Director for Inspection, Janie McManus, has recently been appointed president of the Standing International Conference of Inspectorates (SICI).
SICI is a European organisation which supports best practice in Inspection in all member countries and organisations.
The news was shared at the organisation's annual General Assembly held in Dublin on 18 November 2022.
Janie was elected to this prestigious position by the SICI Executive Committee. This will enable her to share her extensive leadership experience, working in the Scottish education system and professional expertise in inspection, to support learning, debate and collaboration across 37 member inspectorates and organisations.  
Chief Executive of Education Scotland and His Majesty's Chief Inspector of Education, Gayle Gorman said: 'Janie's appointment to President of the Standing International Conference of Inspectorates is a outstanding achievement.
It's a testament to the Scottish approach to inspection that the country is at the forefront of nations working together to support improvement of inspectorates.'
On her new role, Janie says:
'I'm delighted to be appointed to the role of President of the Standing International Conference of Inspectorates. SICI is all about supporting improvement of inspectorates working together, supporting partnership, cooperation and engaging in active debate about evaluation and quality improvement in education. I am proud to be at the forefront of this work alongside my role as strategic director for inspection.'