Food for Thought Education Fund 2021 - 2022
24 May 2021
Applications closed at noon on Thursday 24th June 2021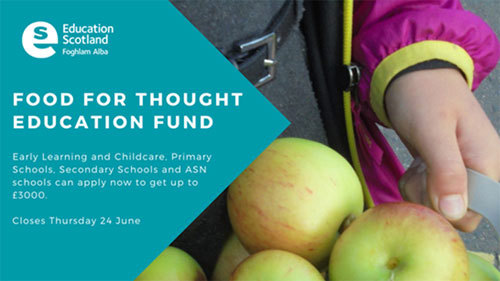 The Food for Thought education fund 2021/22 gives financial support to Early Learning and Childcare Centres, primary schools, ASN schools (including those in the independent sector) and secondary schools in Scotland to help them develop food and health as a context for learning.
Now in its eighth year, the fund gives successful applicants up to £3000 towards a project that that can help educate young people on all aspects of food and drink - from production to consumption. Learners are given the chance to participate in exciting and challenging food and health experiences within and beyond the curriculum. Skills such as growing, harvesting and cooking food can be developed in conjunction with learning about the environmental impact of our food choices.
Schools in previous years have used funding for projects such as creating growing gardens or keeping hens, which help towards enhancing knowledge around seasonality, outdoor learning and physical activity. Food grown in school gardens could be used for practical cooking experiences, which can encourage food sharing as a community and help towards learning about issues around local food and sustainability.
Through the Food for Thought Fund, establishments are able to enhance partnership working by linking with business and other food-related partners in their community. Some previous partners that worked with and advised schools on their Food for Thought project include The Royal Highland Education Trust (RHET) and Zero Waste Scotland.
Gayle Gorman, Her Majesty's Chief Inspector of Education and Chief Executive of Education Scotland, said:
"Education Scotland is committed to improving food and health education for pupils in Scotland. We are thrilled to be able to give schools the opportunity to apply for the Food for Thought Education Fund, which is having such a positive impact in schools across Scotland already. Since the fund started we have helped support 118,000 learners get involved in new and exciting food education projects from creating edible gardens, developing practical cookery lessons, to working in partnership with the local community. We would encourage practitioners to apply for the fund so that Scotland's young people can get to know where their food comes from and how it affects their health, the environment and the economy."
Education Scotland's National Improvement Hub contains a range of relevant resources which may help in the completion of applications
Please refer to the Food Summary Page for more information.
Word file: Application form - Food for Thought Phase 8 ( 52 KB)
PDF file: Food for Thought Phase 8 - Guidance document (558 KB)
Applications must be sent to FoodforThought@educationscotland.gov.scot however questions about the fund can be directed to Jeanette.smart@educationscotland.gov.scot
Related links