Registration is open for this year's Scottish Learning Festival Online
05 July 2021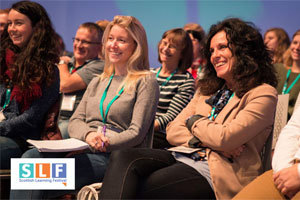 The Scottish Learning Festival (SLF) website is now live and you can register to secure your place! SLF Online will take place from Tuesday 21 until Thursday 23 September and for the first time ever the festival will be an entirely virtual event, offering an amazing 3D experience over three days.
This year's theme is Renew, Refresh, Re-imagine: Learning from our experiences and looking to the future and we are currently developing an exciting conference programme to reflect this.
The conference sessions will be streamed through a range of live and recorded sessions which supports career long professional learning, helping to keep professional practice fresh, up-to-date and relevant.
Registration is open on the SLF website, so book your place today and be the first to receive details of keynote speakers and the seminar programme as they become available.