Health and wellbeing: a thematic review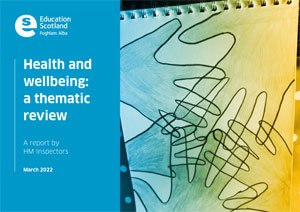 Scotland's HM Inspectors of Education have published a new report examining a range of approaches taken to support health and wellbeing in establishments nominated by local authorities.
As part of Scottish Government's Education Recovery: Key Actions and Next Steps, HM Inspectors of Education committed to undertaking national thematic reviews.
This report is based on evidence gathered during visits undertaken in November and December 2021. HMI visited eight stand-alone early learning and childcare (ELC) settings; 17 primary schools (including 14 with nursery classes); 15 secondary schools; six special schools; one community learning and development service; and one Gaelic school. The sample of 48 schools and settings visited covered a wide geographical spread of urban and rural areas
across Scotland. Appendix 1 provides a list of the establishments visited.
This report considers some of the main challenges schools and settings are facing in connection to supporting children's and young people's health and wellbeing, including:
improving mental and emotional wellbeing;
dealing with the impact of social isolation and resilience;
supporting physical wellbeing;
minimising the impact of poverty on wellbeing;
supporting transitions as children and young people move into school; and
staff wellbeing and professional learning.
Download