Explore this resource
The Scottish Government's package of support for the education workforce has been developed by the Workforce Support workstream of the COVID-19 Education Recovery Group (CERG) in response to needs identified. The workstream also developed a summary of pre-existing support available to the education workforce from partners.
The additional package of support consists of the following four elements:
Mental health and wellbeing support for the education workforce
1. Supervision Spaces to support the mental health and wellbeing of those in a leadership role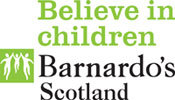 Education Scotland is working in partnership with Barnardo's to offer anyone in an education leadership role three reflective supervision spaces which will focus on looking after their mental health and the mental health and wellbeing of those they lead. 
These three workshop-style sessions will take place mostly on Wednesdays and last 90 minutes per session and there are a range of date and time options to choose from between now and June 2022.
2. Wellbeing Learning Leaders: Supporting the education workforce to look after themselves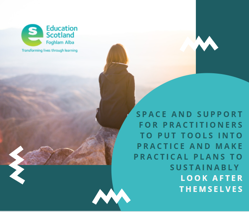 We have an opportunity for any education practitioner to get involved in leading solutions-led peer-learning around mental health and wellbeing. We are creating space and support for practitioners to put tools into practice and make practical plans to sustainably look after themselves. 
All across Scotland, in every educational context, practitioners are doing great work, not only to look after the wellbeing of their learners, but also investing time so that they themselves, and their peer communities, stay mentally well.  Education Scotland is wants to support this.  
We have excellent tools ready to be utilised by all. We know that peer learning is powerful between practitioners, with a level of psychological safety between peers and a role-modelling of behaviour.
You may already be leading on improving mental wellbeing in your context. You may be working on the Whole-Schools Approach Framework to Mental Health and Wellbeing. You may just be the person who is keen to offer solutions to your peers around how to look after themselves.
This is going to look different for every local community - you know your context best. We are here to support you to take forward these solutions with your peers. We know we need to involve practitioners in shaping this.
What we are looking for?
To recruit Wellbeing Learning Leaders, (role description (PDF)), across the education workforce who will share solutions-led peer learning.
Wellbeing Learning Leaders will be expected to commit approximately ½ day per week from January 2022 – March 31 2022. We expect this to be supported by your manager so you have the necessary support and capacity. If this time commitment is a barrier, but you are keen to be involved, please get in touch.
During this period we will be offering training and dedicated time and support for you to learn about tools to look after yourself and how to share these with others. We expect that this space will be co-created by those who participate.
We are keen to hear from practitioners across the education workforce – schools, CLD and early years.
What's in it for you?
Time, space and support for you to focus on identifying when your own wellbeing may be at risk and identifying tools to support yourself.
Becoming empowered to share this knowledge with your peers, cascading best practice and helping your peers to look after their wellbeing.
Solutions being shaped with and for your own context and community.
Links to wider strategic work.
A commitment to sustainability to ensure your community are supported long-term.
How can you get involved?
We are so excited to hear from you. The success of this project is directly linked to the power of our peer-led practitioner communities.
To apply to join the first cohort of Wellbeing Learning Leaders, please fill out this form.
We are running three information sessions in December where you can find out more and tell us what would be helpful for you, which will shape the programme of training and support. During this we will run practical activities to learn how to look after your own wellbeing. 
Information Session: Education Workforce Wellbeing Learning Leaders - Dec 7th
Information Session: Education Workforce Wellbeing Learning Leaders - Dec 8th
If you have any questions, please drop Lynn Pilkington an email on lynn.pilkington@thisismilk.co.uk
If you have any barriers to getting involved, for example caring commitments or lack of access to wifi, but still would love to take forward this work, then we would love to hear from you to help find solutions.
Please note that if you are currently struggling with your own mental health, please talk to your line manager and access the resources available through your local authority. This project is not aimed to replace support for those who are in need of immediate help. It is aimed at those who are feel well enough and have the resources to lead on solutions-led peer work. Please do look after yourself and seek professional help if you are struggling.
Help us to empower you to look after yourself. We know our education workforce deserve it.
1:1 coaching education system offer
For further details about coaching and mentoring visit Coaching and Mentoring Matters, an online resource which will provide information on the 1:1 coaching offer and the professional learning opportunities.
Enhanced support for post-probation teachers
Stepping Stones is a new professional learning programme for recently qualified teachers in the first four years of their career post probation. It is being developed in partnership between Education Scotland and GTC Scotland, together with post-probation teachers.
This programme allows participants to choose from a variety of professional learning opportunities, including online workshops, webinars and networking.
SAMEE (Scottish Association of Minority Ethnic Educators)
SAMEE is a nation-wide organisation led by Black and Minority Ethnic (BME) education professionals. SAMEE has a presence across West, East and Central Scotland, with heightened visibility in areas with the highest concentration of Scotland's BME practitioners and learners in nursery, primary and secondary schools. SAMEE education professionals provide support to the BME educators and learners through Continued Professional Learning, workshops, seminars, conferences, one to one consultations and bespoke mentoring activity.
SAMEE's Leadership and Mentoring Programme
SAMEE's bespoke leadership and mentoring programme for BME education professionals acknowledges, discusses and affirms their lived experiences and the multiple barriers they encounter and also offers: Peer to peer mentoring and career counselling.
The Cycle of Wellbeing
The Cycle of Wellbeing page draws together a range of recently published resources to support staff wellbeing and the wellbeing of children and young people. It demonstrates the synergies of the resources and how they can be used strategically to forward plan supports for staff and learner mental wellbeing based on evidence gathered within a school community.