About the COP26 Summit

In November 2021, the United Nations COP26 Climate Summit will be taking place in Glasgow, Scotland. This will be one of the biggest events of its kind ever to be hosted in our country with 200 world leaders expected to attend. There is hope that the event will result in a truly historic agreement to limit greenhouse gas emissions and tackle the climate emergency.
The Scottish Government have identified People and Just Transitions as key themes for the COP26 Summit and declared that it wants it to be the most inclusive COP summit ever to be held. This includes a strong focus on young people and on engaging disadvantaged and hard-to-reach communities.
Within Scotland's curriculum, Learning for Sustainability (LfS) is recognised as an entitlement for all learners and a recent international study showed that our learners are world-leading global citizens. The COP26 Summit provides us with a unique opportunity to further embed Learning for Sustainability and climate justice education.
Community Learning and Development and Learning for Sustainability
Consistent with the principles of Community Learning and Development, Learning for Sustainability is involved with every level and type of learning and the provision of quality education for all. How Good is Our School 4? (2015) explains that Learning for Sustainability is an approach to life and learning which enables learners, educators, schools and their wider communities to build a socially-just, sustainable and equitable society. An effective whole school and community approach to LfS weaves together global citizenship, sustainable development education, outdoor learning and children's rights to create coherent, rewarding and transformative learning experiences. Community Learning and Development has significant experience in supporting learners and communities to engage in these areas.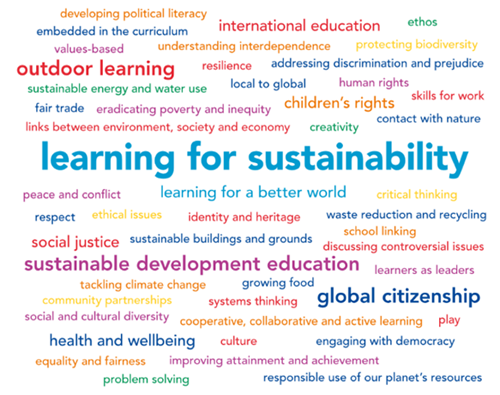 Learning for Sustainability has a key role in building the values, attitudes, knowledge, skills and confidence that people need to live more sustainable lives and contribute to sustainability - locally, nationally and globally. This means learning through taking collective action on socially relevant social and environmental issues in ways that are inclusive, participative and build strong values and relationships within communities – offering clear links to the principles, ethics and values of community learning and development.
If you have any questions or to share relevant resources or information, please contact us at: CountdowntoCOP@educationscotland.gov.scot
For information, resources and links to professional learning, please visit our:
Countdown to COP – CLD Wakelet
National policy and key documents
PDF file: COP26 Explained (UN Climate Change Conference 2021)
A summary of Community Learning and Development (CLD) Covid recovery resources
A summary of learning for sustainability resources
Whole school and community approach to learning for sustainability (LfS) - Self-evaluation and improvement framework
Scottish Government publication: Educational outcomes of Learning for Sustainability: literature review
UNESCO: Education for Sustainable Development - A roadmap
Improvement questions
How can you encourage and promote Learning for Sustainability in the Countdown to COP26 and beyond?
How do you demonstrate Learning for Sustainability in your practice across Community Learning and Development?