Curriculum Innovation
Education Scotland has published two thought papers on curriculum design:
These papers are the outcome of co-design work led by Education Scotland, No Tosh and 40 partners from local authorities between January and March 2020. They capture the shared thinking and consensus of the group and mark the end of the first stage of curriculum design work in each area, to be followed over session 2020/21 with further practical work.
The purpose of these co-design days was to share and clarify thinking about each area (the 'what' and 'why' of curriculum design), drawing on the practical experiences of the groups and developing capacity in design skills (the 'how'). The strength of the papers lies in the fact that they have been, in effect, written by the practitioners who are actually leading on Learner Pathways and/or IDL developments in their own schools.
COVID-19
During the COVID-19 Term 4 lockdown, schools used the four contexts and capacities to share their learning. Below are some approaches to that: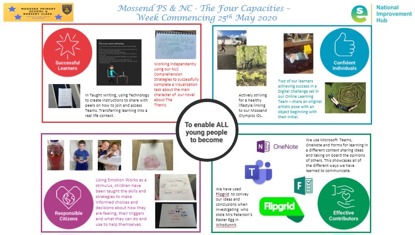 Four contexts at Mossend Primary School and Nursery Class
Four contexts at Skene Square - Skene Square School, Aberdeen, captured learning across the four contexts from individual children and young people and their families.
PDF file: A growing collection of examples of learning across the four contexts (1.1 MB)
Background
A refreshed narrative on Scotland's curriculum has been prepared in response to a recommendation made to the Scottish Government by the Organisation for Economic Cooperation and Development (OECD).
It has been created with and for teachers, revisiting the initial Curriculum for Excellence (CfE) and setting it within the current context. The refreshed narrative aims to:
celebrate the successes of CfE and build confidence for future development;
maximise and develop opportunities to meet the aspirations of our learners;
stimulate fresh thinking about Scotland's curriculum;
engage in professional dialogue in curriculum design and inspire, share and nurture innovation.
Deputy First Minister and Cabinet Secretary for Education and Skills John Swinney discusses the refreshed narrative in more detail in this video from the Scottish Learning Festival 2019.
Posters and templates
Resources are being co-created with practitioners to support curriculum conversations and more will be added in due course.
PPT file: The four capacities presentation (1.5 MB)
PPT file: The four capacities - templates (1 MB)
PDF file: The four capacities cards (printable) (119 KB)
PPT file: The four contexts presentation (911 KB)
PPT file: The four contexts - templates (483 KB)
PDF file: Refreshed CfE Narrative A3 poster (1123 KB)
PDF file: Refreshed CfE Narrative A5 booklet (115 KB) - To print this booklet which highlights the key messages of the Refreshed Curriculum for Excellence Narrative, please select 'flip on short edge' in your printer settings.