This page provides educational practitioner's information about:
Who are Young Carers?
A young carer is someone under 181 who helps look after someone in their family, or a friend, who is ill, disabled or misuses drugs or alcohol.2 They can also have emotional as well as practical caring responsibilities. The level of responsibility that is sometimes placed on young carers would normally be associated with that of an adult.
What do Young Carers do?
Domestic activities - cleaning, laundry, washing
Household management - food shopping, lifting, cooking
Financial and practical management - withdrawing cash, paying bills
Personal care - washing, bathing and giving medication
Emotional care - making sure the person they care for is okay
Sibling care - looking after a brother or sister
Act as communication brokers for the cared for person, for example, those with language barriers
Hidden Young Carers
Often the condition of the person they care for is not obvious so people don't think that the young person needs any help and/or the young carer:-
does not realise that they are a carer or that their life is different to their peers.
does not want to be any different from their peers or draw attention to their caring role.
wants to keep their identity at school/college separate from their caring role.
does not feel they can discuss with their friends.
has not had an opportunity to share their story.
is worried about bullying.
is worried that the family will be split up and that they will be taken into care.
wants to keep caring a secret and/or are embarrassed.
1 A young carer is someone under 18 or has attained the age of 18 while a pupil at a school, and has since attaining that age remained a pupil at that or another school.
2 Some young carers look after more than one person and may have health issues of their own. Some young carers start giving care at a very young age and don't know they are carers. Other young people become carers overnight.
Impact of Caring?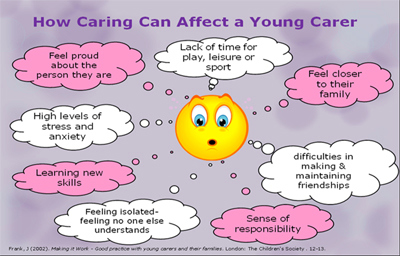 Diagram provided by Perth and Kinross Association of Voluntary Service
The bubbles in pink illustrate some of the positive impact that caring may have on a young carer and the bubble in white illustrate some of the negative impacts.
Download PDF file: How caring can affect a young carer (1.4 MB)
Why are Young Carers vulnerable learners?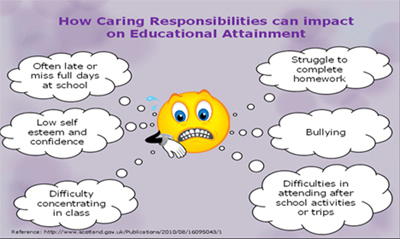 Diagram provided by Perth and Kinross Association of Voluntary Service
Download PDF file: How caring responsibilities can impact on educational attainment (1.1 MB)
In addition to these factors young carers can:
be distracted (for example, checking their phone often) or be quiet/withdrawn,
be secretive about their home life,
feel pressured to remain in a caring role and not progress onto further education,
get no time at home to learn or study due to hectic or chaotic home life, and
lack parental/guardian support for regular school activities such as parents nights/open days.
Improvement questions
How do to I identify young carers?
How am I helping young carers be ready to learn and then engage in learning?
What could I do more of, less of, or differently to support young carers?
How can partnership working, with other practitioners, parents, the wider community, and partners, be developed further to better support young carers' wellbeing and to achieve better educational outcomes?
Download(s)
PDF file: Young Carer Statement (473 KB)
PDF file: Key legislation, policy and guidance (298 KB)
PDF file: Supporting agencies (123 KB)
PDF file: Resources to support practitioners (119 KB)