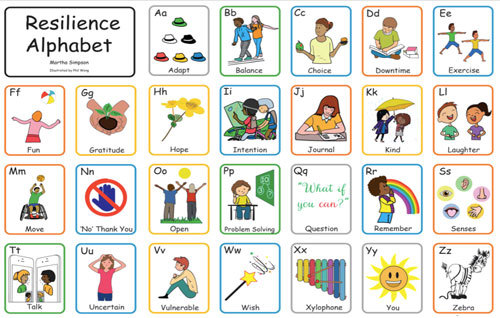 Being resilient is all about how well you deal with and cope with difficult situations, which we are all facing at this time (May 2020) If you are resilient, you have the skills to bounce-back or recover from these difficulties.
The Resilience Alphabet can be used in lots of different way to develop these skills.
You can access and use it on-line or you could print them off to make Resilience Alphabet cards.
Perhaps you could randomly select letters of the alphabet – maybe using the letters within your name, or perhaps start at the very beginning, a, b, c and so on.
Powerpoint presentation: Resilience Alphabet with sound (Large file 22 MB)
Powerpoint presentation: Resilience Alphabet (6.2 MB)
A Resilience Alphabet to support adults
PDF file: Resilience Alphabet - How to build inner strength and wellbeing in 26 days
Feel free to share your work on social media, @EducationScot #ResilienceAlphabet
See how people are interacting on Twitter with #ResilienceAlphabet.