Curriculum for Excellence (CfE) experiences and outcomes: Early level
Literacy and English
I listen or watch for useful or interesting information and I use this to make choices or learn new things. LIT 0-04a
Health and Wellbeing
In everyday activity and play, I explore and make choices to develop my learning and interests. I am encouraged to use and share my experiences. HWB 0-19a
Social Studies
I make decisions and take responsibility in my everyday experiences and play, showing consideration for others. SOC 0-17a
Numeracy and Mathematics
I am aware of how routines and events in my world link with times and seasons and have explored ways to record and display these using clocks, calendars and other methods. MNU 0-10a
Purpose of the activity
The purpose of this learning experience is to develop children's logical thinking skills and problem solving. These skills support children to identify and make good choices.
Learning activity
Decision making and good choices for young children often start with choosing what to wear in different types of weather.
Watch the two video clips with the children and talk about what they were wearing in the different types of weather:
Make a list of the clothes the children were wearing.
You could use the following questions to support further children's thinking:


Why were Nora and Nelly wearing different clothes?
Was it linked to the times of the year?
What do we call these times? For example, spring, winter, etc.

Children may wish to share experiences from their holidays and talk about the types of clothing they wore and why.
Children will demonstrate different levels of independence when dressing according to their stage of development. Children should wear their own clothes and follow national guidance. For example, putting on their own jacket and shoes if in a setting.
To complete the activity, ask the children to choose clothes they would wear for different times of the year. Encourage children to talk and ask questions relating to the characteristics of the clothes they notice, using familiar and new vocabulary. For example, light and bright or heavy and cosy. This will support their understanding of the world around them and how they can access it and enjoy it to support and extend their learning.
Extension activity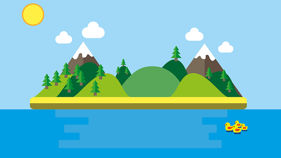 Look at the image and talk about what it would be like to spend some time on a deserted island.
Children could think about and discuss three things they would choose to take to a deserted island. What could the weather be like?
The adult could support thinking, emphasising that the child can change their mind. What three things could the child not live without?
Discussions could be supported by the adult asking questions. For example:

You will have fun with three toys, but what will you eat?
Do you think there will be spare batteries on the island?
Where will you sleep?
National Benchmarks
Literacy and English
Understands and responds to spoken texts.
Identifies new or interesting information from spoken texts.
Numeracy and Mathematics
Names the days of the week in sequence, knows the months of the year and talks about features of the four seasons in relevant contexts.
Possible approach to assessing learning
The following reflective questions could be used to ascertain children's progress and next steps:
How effectively do children share their thoughts, feeling and opinions about the video clips and relate this to their clothing choices?
How well do children express thoughts and opinions on what to take to a deserted island?
To what extent do children use mathematical language to describe the seasons and passage of time throughout the year.
By observing, how well are children developing their fine motor skills through making choices and wearing different clothes?
When planning your approach to assessing learning, please take account of the latest guidance on assessment approaches.