What we did:
Active Schools worked in partnership with various funding partners, local sports clubs, organisations, businesses and National Governing Bodies to offer sports equipment packs for families who needed support to engage in physical activity and sport at home. The funding and equipment donations allowed us to work with schools to identify families who required support to be active at home and provide packs for indoor activities, football, handball, fitness, tennis and badminton. These equipment packs linked with the online resources developed by Active Schools, offering ideas to families on how to stay engaged in sport whilst in lockdown. The project brought funders and local partners from the communities together to promote positive partnerships, and to encourage families to stay active during Covid-19 to support positive physical and mental health.
Who we involved: 
Active Schools and partners; William Grant & Sons; Scottish Football Association; Scottish Handball Association; Troon Community Sports Hub; New Life Church, Prestwick; Glenburn Miners Welfare Football Club; Foundation Scotland; Ayr Rugby Football Club; Hillhouse Quarry Group; Castlehill Church, Ayr; Whitletts Victoria Football Club.
The difference it made: 
The project was really important to allow us to continue to support families to remain active during Covid-19. The fantastic support from local and national partners has been really positive and will make a real difference in our communities across South Ayrshire. The project resulted in the following:
691 packs distributed in partnership with 37 South Ayrshire schools and nurseries.
570 families supported to stay active at home and in their community including 26 care experienced young people.
309 pupils in receipt of free school meals, 256 pupils from SIMD 1 and 2 and 27 pupils with additional support needs.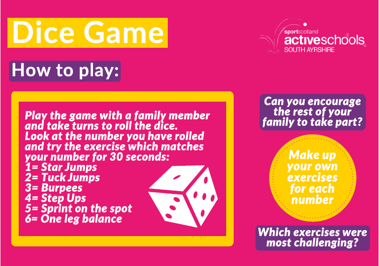 What we will do differently in the future:
The partnerships created during lockdown to fund and deliver this project will remain and have created a real focus around some of our most deprived communities. Continuing discussions with local sports clubs are happening to ensure young people receiving equipment packs are being supported to access club sport where appropriate. An understanding of the barriers to participation are resulting in good local examples such as free places for target pupils etc. This Changing Lives approach to sport is really beneficial locally in understanding the needs of our hardest to reach and least active young people, and embedding a culture of compassion and support in sport locally.