What we did: 
Station House Media Unit is a community media charity serving Aberdeen and the regeneration areas. Our community radio station, 'shmuFM' and local community magazines are presented and produced by volunteers. Many of our readers and listeners do not have internet access and describe our radio programmes and magazines as lifeline services.
We provided a wide variety of radio shows which were both informative and entertaining and created new shows such as request shows for people to leave thank you messages for those helping in their communities - from NHS staff to delivery drivers.
Similarly, we offered a Newsdesk 'Tell Us' to allow people to inform us of things still happening locally, specifically support services operating such as foodbanks and agencies whose doors were closed now providing online advice and support.
Additionally, we created a communications group to regularly update our social media platforms with topical information from mental health support available to promotion of our new radio shows, designed to support people through lockdown by connecting people with their communities.
During this period, our volunteers received The Queens Award for their outstanding contributions to their communities, the highest award achievable for volunteering and a richly deserved achievement.
Who we involved:
We worked collaboratively with agencies across Aberdeen including third sector services, schools, shops, local councils, churches and community hubs. These agencies also benefited from promoting their own work in our magazines and on our radio, which included staff being interviewed online to highlight what they could offer to our communities.
The difference it made:
We undertook a digital audit to ensure our volunteers had adequate equipment to undertake their usual activities from home and secured funding to provide it. This also had the unintended outcome of upskilling our volunteers.
All community households received their 'shmu' magazine and local people told us that having this information in a time of crisis was comforting and reassuring. Likewise, feedback on our radio shows, including the presenters and guests, typically commented on how having access to these shows cheered people up and gave them something to look forward to. This was particularly true of many elderly people who were shielding and could not see family or friends.
Although 'shmu' has always been a trusted and respected service in the community, other services using our platforms told us they could not have accessed as many people through their own channels and the cumulative effect was that we could get local information, advice and entertainment directly into people's homes irrespective of whether or not they had internet, IT equipment or mobile phones. Our radio/magazines gave people something to look forward to and helped create some sense of normality in what was an unsettling and worrying time.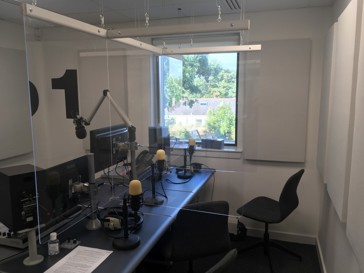 What we will do differently in the future:
Prior to lockdown our work predominantly took place in our building. It was a revelation that so much could still be achieved working remotely. Our staff provided technical support to our volunteers which also helped consolidate their working relationships. Everyone had to learn how to use programmes and apps unfamiliar to us which helped create a non-hierarchical working ethos.
Staff have less commuting to meetings and can therefore attend more partnership meetings with no travel time or mileage expense costs to the organisation. In the longer term we anticipate a blended approach to our work incorporating more home working for the strategic staff particularly.
We can also include more volunteers with mobility/disability issues to contribute from their homes. Likewise, where we had been reviewing the need for hard copy publications, we now know these were considered vital during lockdown.
We have learned new ways to be innovative, expanded our horizons and given our staff more trust and autonomy. Service demand has increased, testament to efficient adaptation to the changes necessary to work safely whilst still maintaining the quality of work 'shmu' is known and valued for.