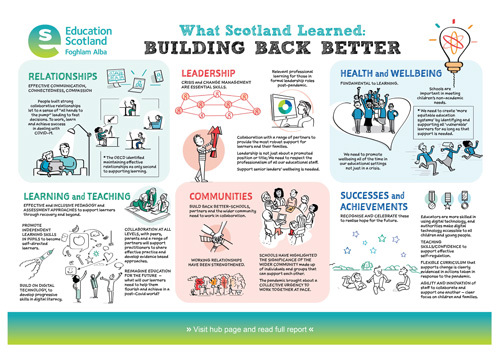 What Scotland Learned is a book published by Education Scotland. It captures examples of innovative practice from learners, parents and educators in Scotland during the period March to August 2020.
One hundred stories from practitioners, local authorities, establishments, leaders, parents, learners, partners, volunteers and others were collected. Ten stories were also collected in the form of semi-structured interviews carried out with academics and educational leaders.
The information from the 100 stories was analysed into six themes for this professional learning paper, which were relationships, leadership, health and wellbeing, learning and teaching, community and successes and achievements.
A sketchnote has been produced which summarises the key findings for each of the six themes.
PDF file: What Scotland Learned – building back better (3 MB)
PDF file: Sketchnote - What Scotland Learned – building back better (1.2 MB)