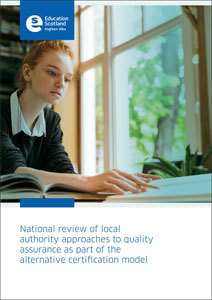 In June 2021, Scotland's HM Inspectors of Education published a report highlighting the arrangements for quality assurance put in place by local authorities as part of the alternative certification model.
The national review provides the independent view of HM Inspectors of Education about what is working well and areas for improvement so that these can be addressed before provisional grades are submitted.
Local authorities are continuing to review and refine their arrangements to ensure that young people achieve evidence based, robust provisional results. Staff at all levels are reflecting on what is working well and what needs to improve as part of developing approaches to quality assurance.
PDF file: National review of local authority approaches to quality assurance
as part of the alternative certification model (535 KB)