Consultation on Caerus
18 March 2022
A new online platform for school-aged childcare and out of school clubs in Scotland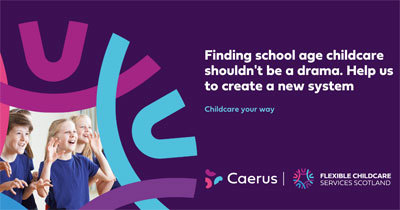 Scottish Government are working with Caerus to understand the supply and demand of school-aged childcare and out of school clubs in Scotland.
Software is being developed which parents and families will be able to use to find and book childcare, clubs and activities in their area. As they prepare to launch the software, Caerus need input from families to ensure the platform meets their needs. Parents and families are being asked to pre-register via https://parents.caerus.scot/ and share their views.
The data obtained from this software platform will help provide the Scottish Government with a clearer picture of where more school-aged childcare is needed. The data will also help the Scottish Government as they develop their plans to build a system of wraparound school aged childcare in Scotland.
Further information on how personal data is being used can be found in the Caerus Privacy Notice.
For more details on Caerus, Email or Tel: 0300 311 0015.