How parents organise work and childcare - Project
Published 09/06/2021

.
Last updated 06/06/2023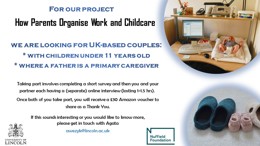 The University of Lincoln is working on a project to look at 'How parents organise work and childcare'.  To be eligible to take part in this project, the two criteria which must be met are as follows:
People living in Scotland whose youngest child was born in Scotland, England, Wales or Northern Ireland.
Couples where the father is the primary caregiver and/or where the mother is the primary caregiver. 
Taking part in the project will involve completing a short survey and then separate online interviews with the mother and the father from each couple. If you would like to know more or be involved in the project email: AWezyk@lincoln.ac.uk.  The closing date is Friday 16th July 2021.
This study is being conducted as part of a project funded by the Nuffield Foundation, 'Caregiving Dads, Breadwinning Mums: Transforming Gender in Work and Childcare?'. Read more about the project and research team.
PDF file: How parents organise work and child care - Advert (190 KB)