Learning together: Back to school Maths and Numeracy
05 August 2020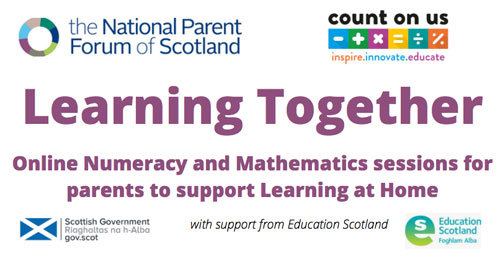 The National Parent Forum of Scotland has worked with 'Count On Us', Education Scotland and the Making Maths Count group to provide parents with the opportunity to learn methods and techniques to help their child visualise maths problems and solve them. These learning together sessions are designed for parents to learn alongside their children – and are inclusive for parents and children alike!
Recorded in June, these sessions are an excellent resource to help prepare for the transition back to full-time school in August!
Why not take a look at the three 'Back to School' sessions. On each page you will find links to a range of resources to support your child's Maths and Numeracy as well as links to the Count On Us webinar recordings – providing you with a video to learn from and revisit whenever you like!