Gartocharn Primary School, West Dunbartonshire - outdoor learning before and into the recovery phase
Published 09/09/2020

.
Last updated 11/04/2023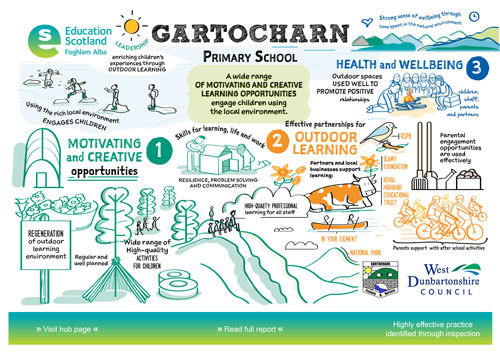 When HM Inspectors visited Gartocharn Primary School last session, children's outdoor learning experiences were outstanding. Children benefit from a wide range of creative and motivating opportunities to learn outdoors. Effective partnerships support children to engage with their rich local environment. Children have a strong sense of wellbeing and outdoor spaces are used well to support positive relationships. A sketchnote has been developed to capture some of this work and a headteacher's blog tells how the school have developed their outdoor learning over time.
During the recovery phase of the pandemic, children at Gartocharn have returned to school and continue to learn outdoors. The recovery update provided by the headteacher tells more about how everyone in the school community follows National guidance to keep children safe while they continue to learn outdoors.
PDF file: Gartocharn Primary School - Sketchnote (1.3 MB)
PDF file: Gartocharn Primary School - blog (1.3 MB)
PDF file: Gartocharn Primary School - recovery update (1 MB)