Grange Primary, ensuring no child misses out, before and into the recovery phase
Published 23/09/2020

.
Last updated 11/04/2023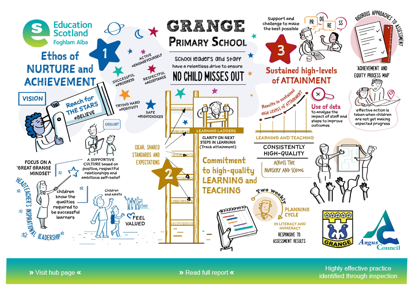 When HM Inspectors visited Grange Primary School, Angus Council, they found consistently high quality learning and teaching across the nursery and school. Teachers' and practitioners' rigorous approaches to assessment ensures that all children receive the support and challenge they need to make the best possible progress.
School leaders and staff have a relentless drive to ensure no child misses out. There is an ethos of nurture and achievement and commitment to high quality learning and teaching. This leads to sustained high levels of attainment.
See the sketchnote of this practice along with the headteacher's blog and an update on how this practice has evolved and been sustained as schools enter the recovery phase.
PDF file - Grange sketchnote - No child misses out - September 2020 (1.1 MB)