Of all pupils in Scotland 7.5% (52,921)[1] are recorded as requiring additional support arising from social, emotional or behavioural needs. Understanding the underlying 'need' is crucial to being able to support children. Social, emotional and behavioural needs include many of the presenting difficulties of Fetal Alcohol Spectrum Disorder (FASD) including significant developmental differences in: motor skills, cognition, language, academic achievement, memory, attention executive functioning (including impulse control and hyperactivity), regulation, or social skills.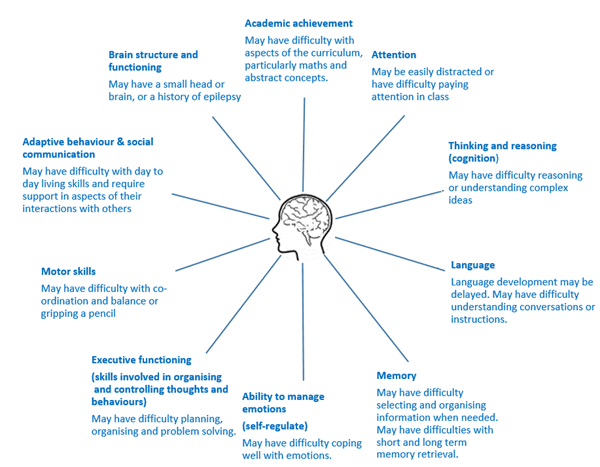 Adapted from "Every Day is an Adventure: What Parents and Caregivers Need to Know About FASD" Healthy Child Manitoba.
See download version (PDF file) of above.
Some facts:
FASD is an umbrella term for children affected by prenatal exposure to alcohol.
FASD is a spectrum, and is often referred to as an 'invisible disability'.
With an estimated prevalence of 3-5% in Scotland, 172,000 individuals may have FASD, and yet it is the most overlooked neurodevelopmental condition in Scotland (Alliance

[2]

). What does neurodiversity mean?
Children affected by FASD can have a wide range of wellbeing needs including physical, growth, neurobehavioral and learning problems which impact on their everyday lives and limit their independence. However, with the right support, people living with FASD can achieve positive outcomes in life.
Only a small proportion of people with FASD have received diagnosis and effective support based on an understanding of their individual brain profile.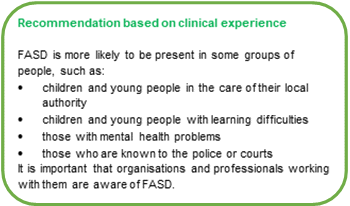 Lack of awareness has meant that many children with FASD are often misdiagnosed and misunderstood. It is important that educational practitioners have a basic understanding of FASD, what to look out for, and know how they can support learners who are affected by it. All whole school relationship based nurturing approaches will help children with FASD in education however NHS Ayrshire and Arran have also produced the resource Understanding FASD – What Educators need to know.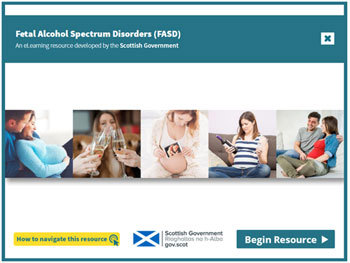 The Scottish Government has launched a free FASD eLearning resource on the NHS Education for Scotland (NES) website (requires registering with NES/TURAS). The NES resource describes diagnostic pathways for children whom practitioners have concerns about and links with the Getting It Right For Every Child National Practice Model for multi-disciplinary assessment and planning to address wellbeing needs (estimated 1 hour 40 minute completion time).
Resources for Educators
Resources for Parents and Carers
Improvement questions
These reflective questions invite you individually and your setting to consider:
How effectively do I look beyond a child's behaviour to their needs and provide appropriate support?
How well do we as a setting recognise and plan for learners with FASD?
How well do we engage with and support parents with children with FASD?
[1] Pupil Census: supplementary statistics Apr 2021 Table 1.8