Explore this resource
High quality provision consists of many different interconnected aspects. The imagery of tartan has been used in the guidance to remind us of the uniqueness of our Scottish context – with each section seen as an interconnected thread contributing to the whole piece. Although each section has been developed so it can be used in any order to meet different needs and different contexts we must always be mindful of this bigger picture.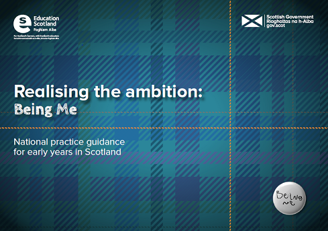 The terms of 'when I am a baby', 'when I am a toddler' and 'when I am a young child' have been used to illustrate developmental needs over time – but these should not be seen as rigid lines of progression. All babies and young children develop their individual skills, knowledge and attributes at different rates according to who they are. The guidance can be used to support children with more complex needs by taking this into account.
The guidance can be used individually, or in short informal group settings where practitioners have time to come together, or as part of a more substantial CPL programme. We would recommend that at points of transition between ELC and primary school, the guidance can be used by designated staff working together to promote a clear understanding of curriculum progression and continuity in children's learning and development.
Please note that the link to the Leuven scales on page 50 is no longer live. Alternative links are provided in the 'Related links' section below.
Download(s)
PDF file: Realising the Ambition: Being Me (16.3 MB)
Challenge questions for each section
You will find challenge questions for sections of the guidance in this downloadable Powerpoint file:
PPT file: Realising the Ambition: Being Me - Challenge Questions (7 MB)
Webinars
Our live Realising the Ambition sessions have already been delivered to thousands of early years educators across Scotland.
We now have a recorded version available to enable you to share or recap on themes:
Part 1 - Realising the Ambition overview - Part 1
Part 2 - Realising the Ambition overview - Part 2
Realising the Ambition Overview for Childminders, produced in partnership with the Scottish Childminding Association.
Supporting Realising the Ambition at a time of COVID-19
This Wakelet provides access to a suite of support materials and examples from practice which are constantly updated. You will find information on:
Being me as we all return
Supporting young children at points of transition
Information for parents on transitions
Being me through play
Being me through adversity and trauma
Being me through block play