Explore this resource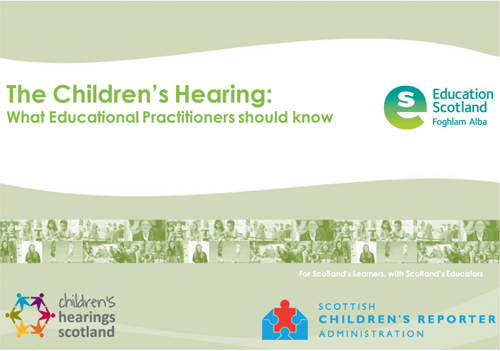 In Scotland we have a unique approach to care and justice in place to protect the safety and wellbeing of vulnerable children and young people. This approach is called the Children's Hearing. The Children's Hearing deals with child protection and youth justice matters through a decision making tribunal called a Children's Hearing. The main referring agencies to the Children's Hearing are the Police, Social Work, Education, Heath, and the Courts.
How do educational practitioners interact with the Children's Hearing?
In four main ways, educational practitioners may:-
be involved in referring a child or young person to the Children's Reporter;
be asked to provide the Children's Reporter with information about how well the child is getting on in school both academically and socially; and
have to provide a child and their family with additional support before, during or after a Children's Hearing (which can often be distressing for a child/family)
under certain circumstances have to give evidence as a witness at court in referral proceedings.
Some children and their families may have to attend Children's Hearings multiple times during their school lives and even multiple times within a school year. This resource provides Educational Practitioners with information about the CHS and resources to help them more effectively support children and families going through this experience.
Downloads
PDF file: The Children's Hearing: What Educational Practitioners should know (2 MB)
Improvement questions
These reflective questions invite you to consider your school's approach and your professional practice, to providing support for children and their families who are involved in the Children's Hearing.
How effectively do I build relationships with learners who are involved in the Children's Hearing due to care and protection or youth justice issues?
How do I look beyond their behaviour to their needs and provide appropriate support?
How well do we as a school recognise and plan for these vulnerable learners before, during or after a children's hearing?
How effectively do we adopt a holistic approach when working with the child and their family?