Explore this exemplar
What is Mentors in Violence Prevention?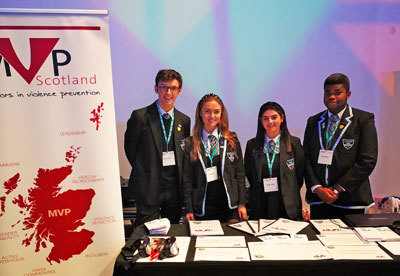 Mentors in Violence Prevention (MVP) is a peer mentoring programme that gives young people the chance to explore and challenge the attitudes, beliefs and cultural norms that underpin gender-based violence, bullying and other forms of violence.
It addresses a range of behaviours including name-calling, sexting, controlling behaviour and harassment, and uses a 'by-stander' approach where individuals are not looked on as potential victims or perpetrators but as empowered and active bystanders with the ability to support and challenge their peers in a safe way.
Visit the Mentors in Violence in Scottish schools blog - outlining where to find support and resources linked to MVP.
Why is MVP needed?
Figures from the Scottish Government highlight the problem of gender-based violence in Scottish society, and there is evidence that young people - particularly girls - encounter physical, emotional and sexual violence (see Barter, McCarry, Berridge and Evans (2009) Partner Exploitation and Violence in Teenage Intimate Relationships). The Mentors in Violence Prevention programme was introduced in Scottish schools in response to these issues.
Find out more about MVP in the following short animations. The first introduces the MVP programme and the second explains the five core components.
What does it aim to do?
The MVP programme aims to support young people to positively influence the attitudes and behaviour of their peers. Following a pilot programme in Edinburgh and Inverclyde councils in 2012, it has since been introduced in 28 local authorities across Scotland.
What is the impact?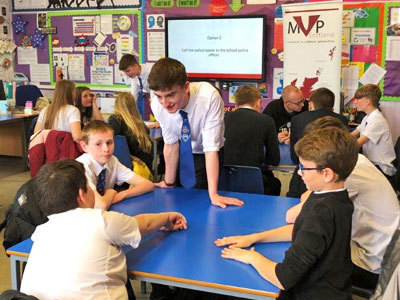 Evidence of the impact of MVP has been gathered through staff feedback, attitude questionnaires and focus groups, with both mentors and mentees reporting that they are more aware of the issues related to violence, gender-based violence and bullying. In addition:
Staff report an increase in pupils who are ready to alert them to safety concerns, from a fight brewing, or a friend self-harming, to someone carrying a sharp object into school. This increased communication allows staff to be proactive and to put support in place as necessary.
Pupils and staff have related examples of pupils intervening on the school bus or in the community when they have witnessed violence or bullying. Pupils report that they are now aware of a variety of ways that they can intervene when witnessing behaviours that are detrimental to wellbeing.
Both pupils and staff refer to an improved ethos within school and a reduction of barriers between older and younger pupils. Mentors and staff identify a positive impact on mentors' confidence and the enhancement of a range of skills such as team-work and presentation skills. Staff suggested that leadership was a key quality developed by involvement in the programme.
Following staff training in MVP, there is a significant increase in the number of staff who feel that they have the necessary skills to educate others about gender-based violence. There is evidence of increased awareness of issues, an increase in those who believe that bystanders can make a difference, and a rise in the number of staff who thought that they would challenge gender-based violence.
Link to resource(s)
PDF file: Mentors in Violence Prevention Annual Report 2021-22 (5 MB)
PDF file: Mentors in Violence Prevention Annual Report 2020-21 (5.4 MB)
PDF file: MVP - Progress report 2018-19 (3 MB)
PDF file: MVP - Progress report 2017 - 2018 (1.1 MB)
PDF file: MVP Annual report 2016-17 (1.6 MB)
PDF file: MVP Annual report 2015-16 (2.8 MB)
How to use this resource to improve practice
The MVP programme can be used to help deliver many of the key experiences and outcomes in Curriculum for Excellence, contributing to a culture of safety where learning can flourish. Practitioners can use the following questions to prompt discussion:
What strengths/areas for development are there in your school's current approach to reducing gender-based violence and bullying?
How could MVP support current approaches?
What needs of the school or community could this programme help address?
What might the barriers be in your establishment to adopting this programme? How might these barriers be overcome?
MVP promotes close partnership working. Who would you consider to be your main collaborative partners and how might you see them being involved?