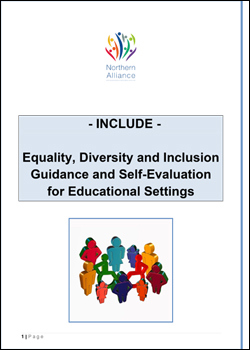 The Northern Alliance Equality Workstream includes representation from each Northern Alliance local authority. Members of the group have a responsibility to promote equality, diversity and inclusion and to ensure a rights approach is taken across all of the work of the group. The group supports equalities training for their local authority staff and contributes to the development and provision of policy and advice in relation to approaches to embedding children's rights.
Over the past few years, the group has worked very closely with the Equality Forum from Nairn Academy in Highland, where pupils have been surveying peers and staff across the Northern Alliance to gather local evidence of knowledge, skill and experience, to help frame guidance on equality and diversity.
The pupils themselves have written this guidance and it draws directly from the experiences of pupils and staff across the Northern Alliance. They have used the acronym INCLUDE as a title, which indicates the contents of the seven sections, each of which highlights a particular aspect that should be focused upon when considering where you are in your journey to embed equality, accept and celebrate diversity and promote inclusive practice and children's rights and participation in your setting.
Download
PDF file: Include: Equality, Diversity and Inclusion Guidance (662 KB)