Digital Learning and Teaching Strategy for Scotland
Published 01/01/2017

.
Last updated 29/03/2023
​This strategy sets out a clear pathway towards ensuring that all of Scotland's educators, learners and parents take full advantage of the opportunities offered by digital technology.
It aims to ensure all learners and educators are able to benefit from digital technology in education. It is structured around four essential and interrelated objectives:
Develop the skills and confidence of educators in the appropriate and effective use of digital technology to support learning and teaching.
Improve access to digital technology for all learners.
Ensure that digital technology is a central consideration in all areas of curriculum and assessment delivery.
Empower leaders of change to drive innovation and investment in digital technology for teaching and learning.
Agreed and supported by a range of national partner organisations, the strategy has identified a number of national actions, together with expectations for local authorities and educational establishments.
Enhancing Learning and Teaching Through the Use of Digital Technology – A Digital Learning and Teaching Strategy for Scotland
Further information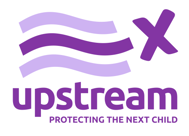 The Upstream Project - Upstream is an online resource that enables adults in Scotland to prevent child sexual abuse and to protect the next child.