Supporting children with additional support needs
Published 31/03/2020

.
Last updated 16/06/2023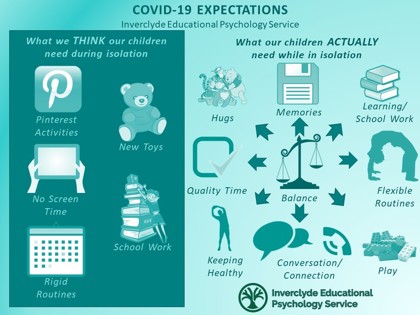 Our lives have had to change quickly since the arrival of COVID-19. We are trying to work out what this means for ourselves, our loved ones and our communities. Many of us are dealing with shrinking support networks, health concerns, job uncertainty or trying to work from home for the first time. So when we think about how to support our children, let's try and be kind to ourselves and realise that we can take this in small steps.
Creating a sense of safety
Our children need reassurance and opportunities to explore their fears and worries. Many organisations have created ways to help these conversations. Your child may, however, be non-verbal but still sensitive to the changes around them. In this case, think about what normally reassures and calms your child.
It's helpful to know that many children and young people go back to behaviours from an earlier stage of development when they are going through loss and change so if this happens it is not unusual. Reassurance and acceptance helps your child's anxieties to reduce.
If your child has already gone through loss or bereavement they may be particularly frightened about the safety of those around them. This short film and download gives some advice.
Looking after ourselves
Remember taking care of yourself helps you to be that reassurance for your child. What can you build into your day that helps you to relax? Are there ways you can keep in contact with others who have children with similar needs to avoid feeling that you are the only one with these new challenges? The charity Mind offers helpful advice on how to look after your wellbeing during this period.
Learning links
It is important to remember that no one expects you to now take on the formal role of a teacher. However, in the same way that you have always helped your child to grow and develop, there are ideas for activities that might be helpful for you and your child.
Your child's school will be the main source of ideas.  There are also lots of ideas for learning at home on this site and on the new COVID-19 pages in the Autism Toolbox and Addressing Dyslexia Toolkit. Both of these websites support inclusive education for all children and young people. The new pages include support for talking about COVID-19, ideas for structuring the day, sensory breaks and a wide range of free learning resources.
The REACH website is designed for young people who require additional support. It has new information about learning at home and support available to young people.
Legal information
Legal information is available from Enquire, the advice centre for parents and carers of children and young people with additional support needs.
You know your own child and your current circumstances and will be best placed to know what is the right fit during these days of change.
Related links
Connect - Additional Support for Learning: Useful information