Making Sense Programme: Final Report 2020
Published 30/01/2020

.
Last updated 11/04/2023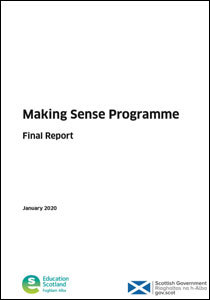 This final report highlights the progress of the Making Sense: Dyslexia and Inclusive Practice Programme 2014 – 2019. The aim of the programme was to help schools and local authorities improve the outcomes for learners with dyslexia and develop sustainable inclusive practice within their school community.
The programme supported the implementation of the 2014 Report's five interlinking recommendations. Additional achievements within the programme were made possible through the positive collaborative partnerships within the Making Sense Working Group and with all the contributing stakeholders.
Progress on each recommendation is highlighted within the report including the range of free professional learning opportunities underpinned by the National Model of Professional Learning.
The report also highlights a range of information and advice which has been made available for schools, learners and families, highlighting:
An Executive summary is also available providing an overview of the final report.
Download(s)
PDF file: Dyslexia: Making Sense Programme: Final Report 2014-2019 ( 1.4 MB)
PDF file: Final Report - Executive Summary (415 KB)
PDF file: Making Sense: Education for Children and Young People with Dyslexia in Scotland Report 2014 (906 KB)
Improvement questions
What actions can be taken to monitor and improve the outcomes of our learners with additional support needs, including dyslexia?
How can I/we evidence that the information and resources are effectively used through our learning establishment?
How will I/we measure the impact of the resources highlighted in the final report?