Supporting young carers in education
Published 05/02/2020

.
Last updated 03/08/2023
Research suggests that around 7% of young people in Scotland have caring responsibilities. It is likely that this is an underestimate as not all young carers will recognise themselves as a young carer or identify as one.
The research shows that being a young carer tends to be associated with poorer health and well-being and suggests that young carers may face challenges in participating in social activities and may feel isolated as a result. Caring may also adversely affect some young carers education particularly in terms of attendance, tiredness levels and concentration, and even bullying.
Educational settings and practitioners can be a valuable source of support for young carers and evidence suggests that children and young people engaged in young carer support projects feel recognised, supported and valued.
This resource will help practitioners recognise young carers and provides ideas about how they can effectively support them. This resource is a useful reference for whole staff or individual professional learning.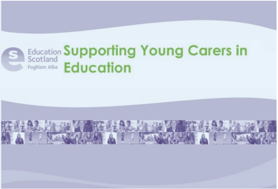 Download
PDF file: Education Booklet 2022 (860 KB)
Improvement questions
How am I helping young carers be ready to learn and then engage in learning?
What could I do more of, less of, or differently to support young carers?
How can partnership working, with other practitioners, parents, the wider community, and partners, be developed further to better support young carers?
Are our young carers recorded in SEEMIS as having additional support needs?
What professional learning do I need, or can I offer, to support practitioners who work with young carers?