YT Club Gardening and Mural Project delivered by Stirling Youth Participation Team
Published 13/03/2023

.
Last updated 14/04/2023
Background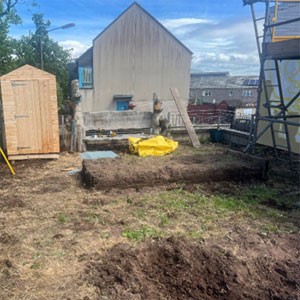 The YT Club is a youth provision run by Stirling Council's Youth Participation service. In the summer of 2022, young people aged 10-16 undertook a makeover of the YT Club's garden area as part of the Stirling Senior Phase and Youth Participation team's summer holiday provision. The centre had been closed due to COVID and young people identified that the grounds of the YT Club needed some love and attention before it's official re-opening in November 2022.
The group visited the Tullibody Community Garden in Alva to find out more about producing fruit and vegetables, and then worked with Stirling Community Enterprise to create pathways and planters for their new space.
What was done
Breakfast and lunch were provided for the group of young people, who attended two days a week from June until September. Young people were supported by youth workers to clear the overgrown land and prepare the area for food growing, as well as design and paint colourful murals for the wall and shutters of the centre.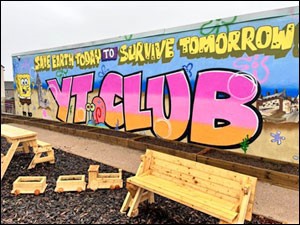 Wall mural artists from Platform 13 Glasgow worked with the young people to design and paint the colourful murals which depict words that they related to the YT Club such as fun, happy and safe; and a cartoon illustration with the quote 'Save Earth today to survive tomorrow'.
Impact
The impact of this project was measured through observations and evaluation feedback. All young people displayed an increase in wellbeing measures from participation in this project.
The Youth Participation team have plans to support several groups of young people to grow, cook and use the fruit and vegetables that will come to fruition later this year, with surplus produce being donated to local families.
This project was funded by Scottish Government Summer holiday food, Activities and Childcare Programme and Clackmannanshire and Stirling Environmental Trust.
Improvement questions
How am I helping children and young people to engage with a wide range of learning and opportunities?
What opportunities do our learners and staff have to work with others to contribute effectively to their communities as active citizens?
How well do we understand our local community? Are the key features of the local community reflected in our learning pathways?