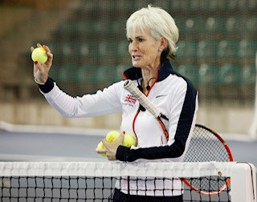 Aims
The resource demonstrates a range of progressive and coherent practices and games, which are designed to:
build teacher confidence and support the delivery of tennis within physical education
provide a platform from which learners can build physical competencies and cognitive skills, improve aspects of fitness and develop personal and interpersonal skills and attributes (Significant Aspects of Learning)
support learners to develop transferable skills which can be applied in a wide range of physical activity, sport, and dance and enhance their mental, emotional, social and physical wellbeing in preparation for leading a fulfilling, active and healthy lifestyle
provide enjoyment, challenge and success for each learner using the activities themselves to teach the learners about tennis, without the need for technical detail.
Explore this resource
Tennis is a think, move and hit sport. Judy delivers directly to the practitioner using a series of video clips to demonstrate and explain a range of progressive practices and games using a variety of equipment. The resource is split into different sections and each one focuses on a particular piece (or pieces) of equipment. The equipment can also be adapted depending on what is available and to the needs of individual learners.
Judy shows how to set up and deliver the content and explains how each practice or game is linked to tennis.
She starts with the simplest practice to build confidence through success and enjoyment and then delivers tennis-specific teaching points across the many progressions. In each section, Judy introduces a new practice, initially in a small space and then gradually adds in some movement before introducing a game or competition.
Teachers and practitioners using the resource can apply knowledge of their own learners to choose the most relevant content at the right time. This resource used in conjunction with the experiences and outcomes and benchmarks can contribute to planned physical education.
The resource is split into a number of different sections:
Primary - also relevant for some learners in secondary
Secondary - also relevant for some learners in primary, particularly at second level
Tennis At Home - suitable for primary and secondary learners and families - this section of the resource will be available in June
Developing Tennis Skills - 3 different station-based programmes suitable for primary and secondary learners in school and at home.
The following supporting documents can be downloaded to support delivery:
PDF file: Judy Murray Tennis Resource - Equipment List (84 KB)
PDF file: Judy Murray Tennis Resource - Primary playlist and descriptions (128 KB)
PDF file: Judy Murray Tennis Resource - Secondary playlist and descriptions (421 KB)
PDF file: Judy Murray Tennis Resource - Developing Tennis Skills playlist and descriptions (102 KB)
Primary
Secondary
Developing Tennis Skills
Improvement questions
In what ways could you introduce the activities from this resource to your current practice?
In what ways could you adapt the material that is demonstrated, to meet the needs of your learners?
In what ways might you develop your pedagogical approach in physical education to enhance the learner's experience?