Mapping an approach taken by establishments to engage with parents and families
In March 2020 as a direct result of the COVID-19 pandemic, Education Scotland established four workstreams focused on practitioner support for online learning. These were:
Health and wellbeing
Learning, teaching and assessment
Learning at home
Remote leadership of learning and teams
The Learning at home workstream gathered information from a range of intelligence including Education Scotland's 'What are your needs' survey (Mar-Apr 2020) and key contacts within local authorities and establishments.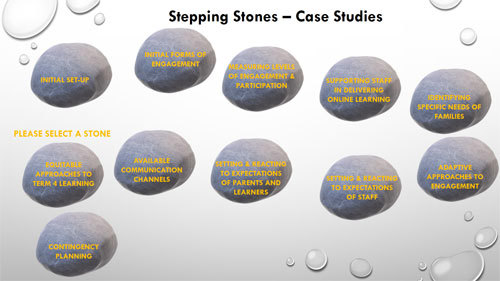 From this data, key themed experiences could be identified. Using these themes, 10 'stepping stones' were developed to gather the contextualised experiences of establishments in supporting learning at home. The aim of the following case studies is to help practitioners map their progress with learning at home and identify next steps.
The case studies are 'live narratives' and engagement with these establishments will continue. The progress of establishments across the stepping stones will continue to be updated regularly to reflect the issues emerging from the recovery phases of education during this pandemic.
This resource will help establishments to quickly identify issues related to learning at home and self-evaluate their own progress. It showcases the various approaches taken by different establishments across Scotland as they navigated through unprecedented challenges and barriers of Learning at Home.
Downloads
Powerpoint show: Learning at home - Stepping stones case studies 16 December 2020 (20 MB)
PDF file: Learning at home – Mapping an approach taken by establishments (226 KB)