The framework can now be accessed via this link: Food in Schools across Scotland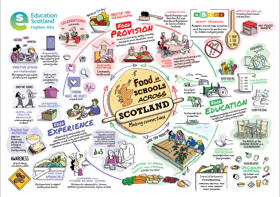 A sketchnote has been produced to illustrate the connections that exist across all aspects of food provision, food as a context for learning and the food experience in schools. It highlights the need to consider the impact and consequences of actions in one context on the other two.
PDF file: Food in Schools sketchnote:  Connections (1.4 MB)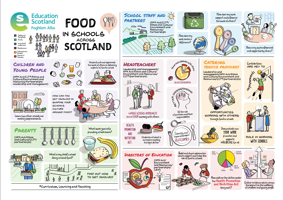 A second sketchnote illustrates the links between different groups of people involved with food in school and the roles they have. It shows how they can work together to deliver a positive food culture supporting the health and wellbeing of children and young people.
PDF file: Food in Schools sketchnote: Contributions (1.2 MB)