Using film at home to support reading, writing, listening and talking
Published 21/07/2021

.
Last updated 06/06/2023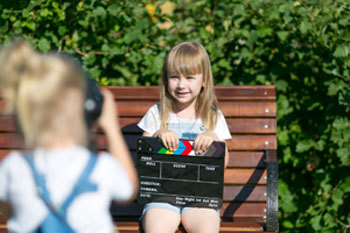 Everyday routines and activities at home provides lots of opportunities to meaningfully engage with your child's learning. For example, exploring film together as a family could be a fun way to support listening, talking, reading and writing together at home.
Watching a film together as a family and taking time afterwards to talk through each other's thoughts and ideas about things such as the story or characters can help everyone to get even more out of the film.
This resource was designed by experienced teachers in Screen Scotland's Film Education team and supported by Education Scotland, to help parents and their children to develop skills in film literacy, which develops reading, writing, listening and talking skills. Screen Scotland, part of Creative Scotland, is the national agency for all aspects of screen production, exhibition, skills and education, and a key priority for them is to ensure that everyone in Scotland has the opportunity to enjoy and benefit from film education.
This resource is suitable for families with children of different ages and stages. There are some very simple ideas for all the family to do as well as more in-depth suggested activities for adults and young people who have an interest in film.
Download
PDF file: Christmas Film Literacy Activities (2MB)
PDF file: Film Literacy Activities (5.7 MB)
Powerpoint presentation: Summer holiday family film chart (491 KB)
Powerpoint presentation: Summer holiday film bingo (103 KB)
Further information
Screen Scotland - https://www.screen.scot/
Screening Shorts - https://screeningshorts.org.uk/