Sketchnote – Glenlivet Primary School - Partnerships – February 2020
Published 24/02/2020

.
Last updated 11/04/2023
Sketchnotes provide a visual description of practice and approaches identified by HM Inspectors during scrutiny activities as worth sharing more widely.
Explore this resource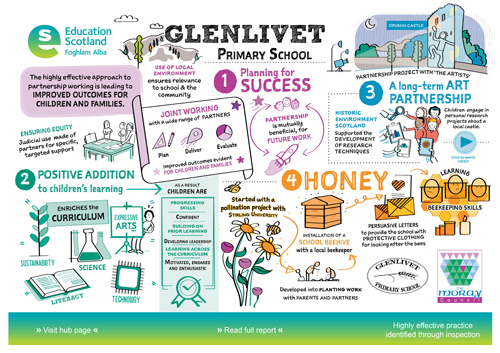 Glenlivet Primary School have developed a wide range of highly effective partnerships which enhance the curriculum and improve outcomes for children and families.
Questions for discussion
Reflecting on your own setting, consider the following:
How well do we understand our local community? Are the key features of the local community reflected in our learning pathways?
How well do we seek out and respond positively to potential partnerships which will lead to better outcomes for the children and young people we work with?
How clear are the partnership agreements we enter into? Do we involve partners at the earliest stages of planning?
To what extent do we identify priorities, communicate, plan, monitor and evaluate our work with partners? Are we clear what added value each partnership brings?
What opportunities do our learners and staff have to work with others to contribute effectively to their communities as active citizens?
Video from Glenlivet Primary
Downloads
PDF file: Glenlivet Primary School - Sketchnote (1.3 MB)