Resources to Support Scotland's Curriculum Framework
Published 17/12/2019

.
Last updated 24/07/2023
Scotland's curriculum places learners at the heart of education. At its centre are four fundamental capacities. These capacities reflect and recognise the lifelong nature of education and learning. They recognise the need for all children and young people to know themselves as individuals and to develop their relationships with others, in families and in communities.
They also recognise the knowledge, skills and attributes that children and young people need to acquire to thrive in our interconnected, digital and rapidly changing world. The four contexts enable children and young people to be democratic citizens and active shapers of that world
See more on Scotland's curriculum website.
A thought paper Exploring The Four Capacities, commissioned by Education Scotland and pulled together by NoTosh, brings together the views of over 150 educators and over 600 learners from across Scotland's education system. It offers insight and provocation to inform the National Discussion on Education and to stimulate your own exploration of the four capacities.
Education Scotland - NoTosh - Exploring The Four Capacities - October 2022 (PDF 972 KB)
What matters?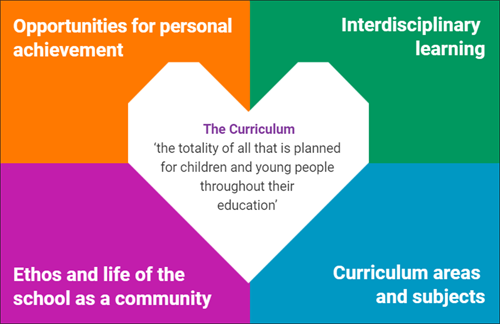 As part of their learner journey, all children and young people in Scotland are entitled to experience a coherent curriculum from 3 to 18, in order that they have opportunities to develop the knowledge, skills and attributes they need to adapt, think critically and flourish in today's world.
Curriculum is defined as the totality of all that is planned for children and young people from early learning and childcare, through school and beyond. That totality can be planned for and experienced by learners across four contexts:
How?
Taking curricular aims and translating them into practice is a continuous process. Getting this right is critical and this section sets out key considerations, activities and ways of working to support the process of curriculum making.
1. Understanding the learners
Listening to learners and the wider school community is key to understanding their motivations and aspirations. The following video and PowerPoint offer some basic service design tools to facilitate dialogue on curriculum making.
West Lothian Design Thinking Session 21/01/22
Resources
2. Knowing the big ideas
3. Being clear on the practical approaches
Education Scotland has published two other thought papers on curriculum design:
These papers are the outcome of co-design work led by Education Scotland, No Tosh and 40 partners from local authorities between January and March 2020. They capture the shared thinking and consensus of the group and mark the end of the first stage of curriculum design work in each area.
Also see the Curriculum Stories Project:
Here are some examples of the practical approaches settings have taken to curriculum making in session 2020/21:
Primary
Secondary
4. Using meaningful learning networks
Engage with a range of online learning activities, search our Professional Learning and Leadership programmes and find national, regional and local events that meet your interests.
The National e-Learning Offer complements the delivery of teaching and learning by schools and settings, local authorities and Regional Improvement Collaboratives in Scotland. You will find resources to support learning across the curriculum.
Education Scotland's Regional Directorate has six Regional Improvement Teams which include staff in a diverse range of roles who all contribute to providing professional advice and bespoke support to settings, schools, local authorities and Regional Improvement Collaboratives.
5. Knowing your own learning and support needs