Numeracy Professional Learning Resources
Published 03/08/2020

.
Last updated 11/04/2023
Explore this resource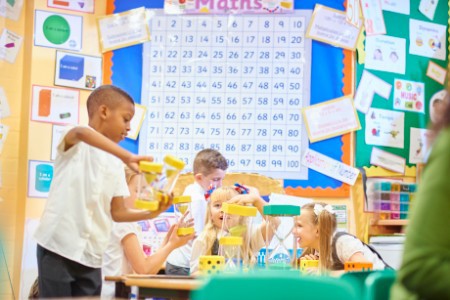 This package of professional learning resources aims to enhance knowledge and understanding of effective learning and teaching progression, whilst impacting positively on numeracy attainment. It includes the following resources:
Guidance document
Number and Number Processes
Fractions, Decimal Fractions and Percentages
Time
Data and Analysis
Ideas of Chance and Uncertainty
Money (New 2022)
Glossary
These resources, produced as part of the National Improvement Framework, aim to support schools and establishments to identify opportunities for targeted learning and enhance the effective teaching of numeracy concepts and associated skills. They also aim to help practitioners to:
identify methods for enhancing learners' progression and skills in numeracy and support application;
plan how to develop their own practice to ensure the progression of skills when teaching numeracy.
Within each document there is progressive guidance for each level from early through to fourth. Each level includes the following:
Effective learning and teaching approaches;
Things to consider;
Links to other curricular areas;
Reflective questions.
In addition to supporting practitioners to review and reflect on the current progress of their learners, this resource also supports practitioners to identify development themes required for the reinforcement of learning. Furthermore, this resource can support practitioners to review and reflect strengths and improvement areas within their own professional learning.
School leaders can use this resource to support curriculum development and improvement. Local authority leaders can use this resource to support consideration and enhancement of centrally provided professional learning offers to practitioners.
Downloads
Guidance documents
PDF file: Guidance document (510 KB)
PDF file: Guidance document (Gaelic version)(480 KB)
Professional Learning resource documents
PDF file: Number and Number Processes (2.7 MB)
PDF file: Number and Number Processes (Gaelic version) (3.2 MB)
PDF file: Fractions, Decimal Fractions and Percentages (1.9 MB)
PDF file: Fractions, Decimal Fractions and Percentages (Gaelic version) (2.2 MB)
PDF file: Time (Gaelic version)(2.2 MB)
PDF file: Data and Analysis (1.8 MB)
PDF file: Data and Analysis (Gaelic version)(2 MB)
PDF file: Ideas of Chance and Uncertainty (652 KB)
PDF file: Ideas of Chance and Uncertainty (Gaelic version) (900 KB)
PDF file: Money (Gaelic version) (3.6 MB)
Sketchnotes
PDF file: Early Level Sketchnote - Number and Number Processes (267 KB)
PDF File: First Level Sketchnote - Number and Number Processes (1.2 MB)
PDF file: Second Level Sketchnote - Number and Number Process (257 KB)
Glossaries
PDF file: Glossary (Gaelic version) (480 KB)
PDF file: Numeracy Glossary (Gaelic version - alphabetical) (479 KB)